With over 400 edge-to-edge full-color pages of Flash goodness, this is a great book to leave both on the coffee table and in the studio. An international collection of experienced Flash users bring their unique perspectives into the third volume of the New Masters series, like spices in an exotic meal.


Introduction by Brendan Dawes!



Photographs of the pages within New Masters of Flash Volume 3:


chapter 7, Nathalie Lawhead



chapter 11, Kristin Henry



chapter 14, Danny Franzreb



Special thanks to all involved!


Commissioning Editor
Steve Rycroft

Graphic Designer and Compositor
Katy Freer

Technical Editors
Matthew Knight
Steve Rycroft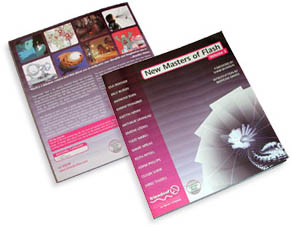 New Masters of Flash Volume 3 , paperback
477 pages | 1st edition | Friends of Ed